One of Scotlands Oldest Established Record Shops founded in 1967
In our shop in Perth, we stock 1000s of CDs & DVDs as well as a large selection of Vinyl LPs,12" Singles, 7" singles and picture discs, plus Ltd Editon Box Sets on CD & Vinyl.

Plus an extensive range of Second Hand Vinyl covering all genres of music

If you have any queries, please email us @ info@concordemusic.com
or if you would like to place an order
over the phone, please contact us on (01738) 621818.

Concorde Music Shop
15 Scott Street, Perth PH1 5EJ

OPENING TIMES - Monday to Saturday 8.30am - 5.00pm



**************************
These releases are available in our shop, and can be purchased by Mail Order.

You can order by email or phone, paying by Credit/Debit Card or PayPal.

Any queries, please get in touch.

01738 621818 sales@concordemusic.co.uk
Some of the below are limited, so please check availabilty.



2017 Collectors Box [VINYL] £43
contains 'Fear of the Dark' and 'No Prayer for the Dying'
plus space for the other albums!!!!




Iron Maiden 'Virtual X1' 2xLP
£28
Iron Maiden 'The X Factor' 2xLP
£28
Iron Maiden 'Fear of the Dark' 2xLP
£28
Iron Maiden 'No Prayer for the Dying' LP
£20
Pollinator [6 x Vinyl Boxset + 6 x Art Cards + Download Code] [VINYL]
£40
5 LP Box set
£85
Emerson, Lake and Palmer 'Works Vol.1' 2xLP £25
Emerson, Lake and Palmer 'Works Vol.2 2xLP £25
Bad Company 'Burnin Sky' 2xLP £25
Bad Company 'Run With The Pack' 2xLP £25
Manic Street Preachers 'Send Away the Tigers' LP £22
The Raincoats LP £16
The Raincoats 'Odyshape' LP £16
Linkin Park 'One More Light' LP £20
Blink 182 'California' 2xLP £28
Harry Styles 'Harry Styles' LP/12 Page Booklet £22
The Kooks 'The Best of... So Far' 2xLP £25
Resistance Radio 'The Man in the High Castle' 2xLP £22
Scouting for Girls 'Scouting for Girls' LP £20
'Singles' Original Motion Picture S/T LP/CD £30
Emily Barker 'Sweet Kind of Blue' LP £20
Erasure 'World Be Gone' LP £22
Kraftwerk 3-D 2xLP £30
Mod Anthems 4 Sides of Mods 2xLP £20
Fleetwood Mac 'Tango in the Night' LP £18
Fleetwood Mac 'Mirage' LP £18
Feist 'Pleasure' LP £20
T
hurston Moore 'Rock n Roll Consciousness' LP £20
Rem 'Green' LP £26
Barry Adamson 'Love Sick Dick' LP £15
Kasabian 'For Crying Out Loud' 2017 LP £20
Leftfield 'Leftism' 3xLP £30
Diana Krall 'Turn up the Quiet' 2xLP £25
Nick Cave and the Bad Seeds 'Lovely Creatures' The Best of 3xLP £25
Barry Manilow 'This is my Town' LP £22
At The Drive In 'Inter Alia' LP £20
Blondie 'Pollinator' LP £22
Paul Weller 'A Kind Revolution' LP £24
Sean Rowe 'New Lore' LP £22
Hawkwind 'Into the Woods' 2xLP £25
John Mellencamp 'Sad Clowns & Hillbillies' LP £22
Daryl Hall and John Oates 'Rock'N Soul Part 1 LP £20
David Bowie 'Heathen' LP £20
Bob Dylan 'Triplicate' 3xLP £38 * Deluxe Edition £50
Tom Hickox 'Monsters In The Deep' LP £18
T.Rex 'The Slider' 2xLP £30
British Sea Power' 'Let The Dancers...' 2xLP £28
Take That 'Wonderland' LP £22
Goldfrapp 'Silver Eye' LP Clear Vinyl 24
Royal Thunder 'Wick' 2xLP £24
Francis Albert Sinatra & Antonio Carlos Jobim LP £20
Nirvana 'Incesticide' LP £26
The Clash 'Combat Rock' LP £20
Rag'N'Bone Man 'Wolves' LP £18
Deep Purple 'Infinite' 2xLP / DVD £22
La La Land Soundtrack LP £24
The Rifles 'Unplugged Album' 2xLP £24



Dropkick Murphys 'Sing Loud, Sing Proud' LP £20
Jethro Tull 'The String Quartets' 2xLP £25
Paul McCartney 'Flowers in the Dirt' 2xLP £30
Steel Panther 'Lower the Bar' 2xLP £24
Mavericks 'Brand New Day' LP £18
Dying Fetus 'Descend Into Depravity' LP £18
James Blunt 'The Afterlove' LP £20
Jesus and Mary Chain 'Damage and Joy' 2xLP £25
The Doors '50th Anniversary Deluxe' 3CD / 1LP £45
Mastodon 'Emperor of Sand' 2xLP £28
U2 'How to Dismantle an Atomic Bomb' LP £20
U2 'War' LP £20
Deacon Blue 'Live at the Glasgow Barrowlands' 2xLP £24
British Sea Power 'Let the Dancers.....' LP £20
Miles Davis 'Sketches of Spain' LP £20
Johnny Cash 'At Folsom Prison' 2xLP £20
Guy Clark 'The Best of Dualtone Years' 2xLP £28
Iggy Pop 'Shot Myself Up' LP £22
Mallory Knox 'Wired' LP £20
Deep Purple 'All I Got Is You' LP £8
Max Richter 'Three Worlds' 2xLP £28
Circa Waves 'Different Creatures' LP £20
Miles Davis Quintet 'Freedom Jazz Dance' 3xLP £38
Joe Cocker 'The Life of a Man' Ultimate Hits 2xLP £22
Timothy B Schmit 'Leap of Faith' 2xLP £22
Buzzcocks 'Times Up! LP £18
Obituary 'Obituary' LP £20
Conor Oberst 'Salutations' 2xLP £28
Gary Clark Jr 'Live North America 2016' 2xLP £22
Counting Crows 'August and Everything After' 2xLP £28
Jarvis Cocker/Chilly Gonzales LP £24
Depeche Mode 'Spirit' 2xLP £25
Ryan Adams 'Prisoner' LP £24
Amy MacDonald 'Under Stars' LP £20
Renaissance 'Turn of the Cards' LP £20
Disturbed 'Live at Red Rocks' 2xLP £22
Bob Stanley & Pete Wiggs 'English Weather' 2xLP £30
Blink 182 'Buddha' LP £15
George Harrison 'All Things Must Pass' 3xLP Box Set £89
George Harrison 'Cloud Nine' LP £26
George Harrison 'Dark Horse' LP £28
New Years Day Concert 2017 3xLP £24
Grandaddy 'Last Place' LP £20
Alison Krauss 'Windy City' LP £24
Christine and The Queens 'Chaleur Humaine' LP/CD Blue Vinyl £24
Sleaford Mods 'English Tapas' LP Red Vinyl £18
Ed Sheeran 'Divide' 2xLP £25
Six Feet Under 'Torment' LP £20
Lower Than Atlantis 'Safe In Sound' LP £20
The Weeknd 'Starboy' 2xLP Red Vinyl £25
Bush 'Razorblade Suitcase' 2xLP £34
Rag 'n' Bone 2xLP £22
Status Quo 'Under The Influence' LP £25
Status Quo 'The Party Ain't Over Yet' 2xLP £28
Status Quo 'Don't Stop' 30th Anniversary Album 2xLP £28
Jethro Tull 'Stand Up' LP £22
Vant 'Dumb Blood' LP £22
Steve Winwood 'Talking Back To The Night' LP £20
Steve Winwood 'Arc of the Diver' LP £20
Steve Miller 'The Joker' LP £20
Pete Townshend - Ronnie Lane 'Rough Mix' LP £24
Pete Townshend 'Who Came First' LP £24
Tim Bowness 'Lost in the Ghost Light' LP £22
Iggy and The Stooges 'Raw Power' 2xLP £24
Alex Harvey and his Soul Band 'Shout' LP £20
Alex Harvey and his Soul Band LP £20
Alicia Keys 'Here' LP £20
The White Stripes 'Get Behind Me Satan' 2xLP £24
Peter Green Splinter Group 'Destiny Road' 2xLP £22
Stevie Ray Vaughan 'Texas Flood' LP £20
The Alan Parsons Project 'I Robot' LP £20
Judas Priest 'Turbo 30' LP £20
Train 'A Girl A Bottle A Boat' LP £20
Vaults 'Caught In The Life' LP £20
Moon Duo 'Occult Architecture' Vol.1 LP £28
Assassin's Creed 2xLP £28
Budgie Bandolier' LP £20
Budgie 'In For The Kill! ' LP £20
Budgie 'Never Turn Your Back....' LP £20
Robert Earl Keen 'Live Dinner' 2xLP £28
A Tribe Called Quest ''We Got It From Here' 2xLP £24
Jeff Healey 'Holding On' 2xLP £22
Portishead 'Portishead' 2xLP £28
Dusty Springfield 'In Memphis' LP £20
Dusty Springfield 'The Silver Collection' LP £20
Paul Weller 'Paul Weller' LP £35
Paul Weller 'Wild Wood' LP £35
Mike Oldfield 'Return to Ommadawn' LP £28
Meat Loaf 'Bat Out Of Hell' LP £22
Eurythmics 'Greatest Hits' LP £24
Pink Floyd 'Final Cut' LP £20
Pink Floyd 'Momentary Lapse of Reason' LP £20
The Replacements 'All Shook Down' LP £18
The Replacements 'Don't Tell A Soul' LP £18
The Replacements 'Please To Meet' LP £18
The Replacements 'Tim' LP £18
Jean-Michel Jarre 'Oxygene 3' LP £20
Rolling Stones 'Blue & Lonesome' 2xLP £30
Elvis Presley 'The Wonder Of You' 2xLP £24
The Last Shadow Puppets 'The Dream Synopsis EP' £15
Erasure 'Tomorrow's World' 2xLP £28
Erasure 'Snow Globe' 2xLP £28
Public Service Broadcasting 'Live at Brixton' 2xLP £25
Bob Dylan 'The Real Royal Albert Hall 1966 Concert' 2xLP £22
Leonard Cohen 'You Want It Darker' LP £20
Emile Sande 'Long Live the Angels' 2xLP £30
The Wedding Present 'Going,Going' 2xLP £28
Rick Wakeman 'No Earthly Connection' LP £18
Neil Diamond 'Acoustic Christmas' LP £20
Kungs 'Layers' LP £20
Blossoms 'Blossoms' LP £18
Neil Young 'Peace Trail' LP £24
Rumer 'This Girl's In Love' LP £18
Eric Clapton 'Live in San Diego' 3xLP £30
Pete Tong 'Classic House' 2xLP £28
Zayn 'Mind of Mine' 2xLP £24
Cliff Richard 'Just... Fabulous Rock 'n' Roll LP £22
Simple Minds 'Acoustic' LP £24
Siouxsie and the Banshees 'The Scream' PICTURE DISC LP £24
Phil Spector 'Christmas Album' WHITE VINYL LP £20
Richard Thompson 'Still' 2xLP £28
Busted 'Night Driver' LP £20
Now The Christmas Album LP £18
Bon Jovi 'This House Is Not For Sale' LP £24
Beck 'Odelay' LP £24
Shania Twain 'Come on Over' 2xLP £28
Shania Twain 'Shania Twain' LP £20
Stereophonics 'Performance and Cocktails' LP £20
Pink Floyd 'Animals' LP £20
Sting '57th & 9th' LP £25
Enigma 'The Fall Of A Rebel Angel' LP £24
John Lennon/Yoko Ono 'Unfinished Music No.2. Ltd Ed White Vinyl £20
Yoko Ono Plastic Ono Band LP Ltd Ed Clear Vinyl £20
R.E.M. 'Out of Time' LP £20 * 3xLP £60
Reckless Love 'Invader' 2xLP £25
Joe Cocker 'Mad Dogs & Englishmen' 2xLP £28
The Beatles ''Live at the Hollywood Bowl' LP £28
Rainbow 'Memories of Rock' Live in Germany' 3xLP £30
Metallica 'Hardwired..To Self-Destruct' 2xLP £28
Queen 'Greatest Hits' 2xLP £28
Queen 'Greatest Hits 2' 2xLP £28
Soungarden 'Badmotorfinger' 2xLP £40
Bruno Mars '24K Magic' LP £20
The Man Who Fell From Earth ' 2xLP £28
The Jam 'The Very Best Of' 3xLP £30
Madness 'Can't Touch Us Now' LP £20
David Gray 'The Best of' LP £22
John Prine 'For Better, Or Worse' LP £20
The Answer 'Solas' 2xLP £25
Merry Christmas Mr.Lawrence' LP £20
Pink Floyd 'Dark Side of the Moon' LP £20
Stevie Nicks 'Bella Donna' LP £20
Super Furry Animals 'Fuzzy Logic' LP £22
Bon Jovi 'Slippery When Wet' LP £22
Bon Jovi '7800 Fahrenheit' LP £22
Bon Jovi 'Bon Jovi' LP £20
Katie Melua 'In Winter' LP £20
Ennio Morricone ''60 Years of Music' 2xLP £24
Nathan Sykes 'Unfinished Business' LP £20
********************************************************************************************
WE NOW HAVE AN EXTENSIVE RANGE OF SECOND HAND VINYL
7" and 12" Singles LPs 78s
POP/ROCK CLASSICAL
JAZZ COUNTRY VOCAL
INSTRUMENTAL SCOTTISH
from only £1.00.......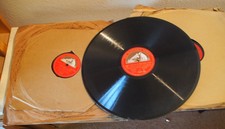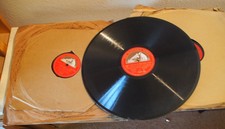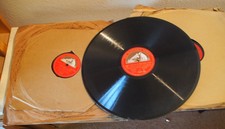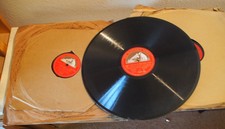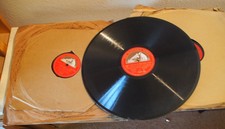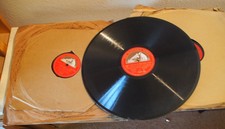 ********************************************************************************************************
Record Players now in stock from ONLY £45 !!!!
GPO Stylo £45
If a loved one has a record collection or they want to dip their toes into the vinyl scene,
then try the new Stylo.
Be one of the first to enjoy the 'back-to-basics' record player. It has a switch to select standard speeds 33/45/78 and features built-in speakers, a play/pause lever, an LED blue pilot lamp illuminates to indicate the volume level as you turn the knob.
Suports 3 speeds - 33/45/78 RPM
Ruby Stylus
Aux In 3.5mm for headphones/external speaker connection
Belt drive
Built-in stereo speakers
Play/pause lift receiver
Volume adjust with blue LED indicator
Size: 330mm x 280mm x 115mm
********************************************************************************************************
GPO Attache £90

Stylish, lightweight and available in a range of colours the suitcase record player makes it simple for you to play your vinyl wherever you are. Made of wood and bound in leatherette this briefcase styled record player features built in stereo so you can tune in without needing a speaker system.
Features:
Portable briefcase turntable player, enjoy music anywhere anytime!
Built in twin stereo speaker, enjoy high the popular design combine fashion and elegant,
Analogy output: RCA connectors L/R
Digital output: USB port
RPM records: Speed 3 (33,45,78 RPM)
Record your vinyl to a USB stick (supplied in the box)
Available in vintage brown, pillarbox red and sky blue
Accessories: instruction manual, power supply and USB recording stick
1 year warranty
**********************************************
GPO Memphis £140
A VINYL TURNTABLE, MP3 PLAYER, FM RADIO AND CD DECK

Bringing style to the vinyl revival, the GPO Memphis is a big personality formed from the American '50s era. This product offers flexibility and versatility, to bring all of your music collection under one hood; this is a must have for any music fan! Convert all your LPs and CDs to MP3 format, then save them to an SD card or USB stick.
***********************************************************************************************************
VISIT OUR EBAY SHOP FOR AN EXTENSIVE RANGE OF

CDs DVDs and Vinyl

http://stores.ebay.co.uk/concordemusicperth





CONCORDE MUSIC
15 Scott Street
Perth
PH1 5EJ

Tel - 01738 621818 email - info@concordemusic.co.uk