One of Scotlands Oldest Established Record Shops founded in 1967
In our shop in Perth, we stock 1000s of CDs & DVDs as well as a large selection of Vinyl LPs,12" Singles, 7" singles and picture discs, plus Ltd Editon Box Sets on CD & Vinyl.

If you have any queries, please email us @ info@concordemusic.com
or if you would like to place an order
over the phone, please contact us on (01738) 621818.

Concorde Music Shop
15 Scott Street, Perth PH1 5EJ

OPENING TIMES - Monday to Saturday 8.30am - 5.00pm



**************************



FORTHCOMING RELEASES

12th August
Neil Young 'Earth' 3xLP
The Monkees 'Good Times!' LP
Daryl Hall & John Oates 'Very Best of' 2xLP
John Williams Ep.5 Empire Strikes Back 2xLP
John Williams Ep.6 Return of the Jedi LP



19th August


Dolly Parton 'Pure & Simple'' CD
Elvis Presley 'Way Down in the Jungle Room' 2xLP
Sex Pistols 'Live '76' 4xCD 4xLP



26th August


Kiss 'Rocks Vegas' DVD Blu Ray DVD/CD DVD/2xLP Deluxe
Florida Georgia Line 'Dig Your Roots' CD
Pink Floyd 'The Wall' 2xLP
Pink Floyd The Division Bell' 2xLP



2nd September


The Divine Comedy 'Foreverland' CD LtdCD LP
King Creosote 'Astronaut Meets Appleman' CD LP LP/10"
Pearl Jam 7" Singles
Freddie Mercury 'Messenger Of The Gods' 2xCD 7" Singles Box Set
Blondie 'Plastic Letters' LP Pic Disc
The Ruts 'The Crack' LP Pic Disc
Skids 'Sacred to Dance' LP Pic Disc
The Members 'At The Chelsea Nightclub' LP Pic Disc



9th September


Nick Cave & The Bad Seeds 'Skeleton Tree' CD LP
The Verve 'A Storm in Heaven' 3xCD/DVD LP
The Verve 'A Northern Soul' 3xCD 2xLP
Trio 11 : Dolly Parton.Linda Ronstadt & Emmylou Harris LP
New Order 'Singles' 2xCD 4xLP Box
Meat Loaf 'Braver Than We Are' CD LP
ZZ Top 'Live - Greatest Hits from Around the World' CD 2xLP
Bastille 'Wild World' CD CD Deluxe 2xLP
KT Tunstall 'KIN' CD LP
The Beatles 'Live at the Hollywood Bowl' CD LP
The Man Who Fell To Earth S/T 2xCD 2xLP 2CD/2LP
ZZ Top 'Live Greatest Hits' CD 2xLP
Wilco 'Schmilco' CD LP
Twin Atlantic 'GLA' CD LP



16th September




Pet Shop Boys 'Say It To Me' CD Single/12" Single





23rd September


Passenger 'Young As The Morning Old As The Sea' CD CD/DVD LP LP Deluxe
Pink Floyd 'Atom Heart Mother' LP
Pink Floyd 'Meddle' LP
Pink Floyd 'Obscured by Clouds' LP



30th September




Van Morrison 'Keep Me Singing' CD LP





***********************************************************************************************************************************************************************************************

We stock all the latest releases and Chart Albums - from £12.00
Ministry of Sound Dance Albums



********************************************************************************************************************************************
Portable Record Cases + Holding 30 Records £30.00
********************************************************************************************************************************
These releases are available in our shop, and can be purchased by Mail Order.

You can order by email or phone, paying by Credit/Debit Card or PayPal.

Any queries, please get in touch.

01738 621818 sales@concordemusic.co.uk
Some of the below are limited, so please check availabilty.
Kiss 'Rocks Vegas Nevada'
2xLP + DVD £30
DVD + CD £18
Blu-ray + DVD + 2CD £38
Jake Bugg 'On My Own' LP £20
Judas Priest 'Battle Cry' 2xLP £22
Michael Kiwanuka 'Love & Hate' LP £22
Bjork 'Vulnicura Live' 2xLP £25
Michele Stodart 'Pieces' LP £18
Bear's Den 'Red Earth & Pouring Rain' LP £20
The Jayhawks 'Paging Mr.Proust' LP £18
Tom Petty and the Heartbreakers 'Greatest Hits' 2xLP £28
Simple Minds 'New Gold Dream' LP £20
Carol Kidd 'Gold' 2x45RPM Supercut LP £32
Star Wars 'The Empire Strikes Back' Gold Vinyl 2xLP £22
Ghostbusters S/T LP £20
Daryl Hall & John Oates 'The Vety Best of' LP £22
The Damned 'The Black Album' LP £22
Deep Purple 'In Concert '72' LP £28
Frank Zappa 'Hot Rats' LP £20
Dead Kennedys 'Live.. The Old Waldorf 1979' LP £20
Lita Ford 'Time Capsule' LP £20
Blink-182 'California' LP £20
Bat For Lashes 'The Bride' 2xLP £28
Nick Jonas 'Last Year Was Complicated' LP £24
Cream 'Disraeli Gears' Half Speed Mastering' LP £28
Rolling Stones 'Exile On Main Street' 2xLP Half Speed Mastering £35
ELO 'Time' LP £20
ELO 'Face The Music' LP £20
Christine and the Queens 'Chaleur Humaine' LP £20
Biffy Clyro 'Ellipsis' LP £20
K D Lang 'Absolute' LP £28
Miles Ahead S/T £22
ABC 'The Lexicon of Love' LP £18
Jeff Beck 'Loud Haler' LP £25


Ian Brown 'Golden Greats' 2xLP £28
The Traveling Wilburys 'Collection' 3xLP Box Set plus Bonus 12" £100
Van Morrison 'It's Too Late To Stop Now' Vol.1 2xLP £22
Garbage 'Strange Little Birds' 2xLP £22
Paul Simon 'Stranger To Stranger' LP £22
Public Service Broadcasting 'The Race for Space/Remixes LP £18
Bob Dylan 'World Gone Wrong' LP £20
Twin Peaks 'Down in Heaven' LP £22
Band of Horses 'Why Are You Ok' LP £20
All Saints 'Red Flag' LP £24
The Strokes 'Future Present Past' EP £12
P J Harvey 'The Hope Six Demolition Project' LP £25
Anderson/Stolt 'Invention of Knowledge' 2xLP £24
E L O 'Discovery' LP £20
Doro 'Strong and Proud' 2xLP £18
Erasure 'Loveboat' LP £20
Erasure 'Cowboy' LP £20




Case/Lang/Veirs 'Case/Lang/Veirs' LP £20
The Answer 'Rise' LP £22
Moby 'Play' LP £24
Mumford and Sons 'Johannesburg' 10" £12
ELO 'All Over The World' The Very Best of.. 2xLP £22
St Germain 'Sittin' Here' 12" £15
Phil Collins 'The Essential Going Back' LP £18
The Killers 'Hot Fuss' LP £20
Ziggy Stardust Sound/Track 2xLP £25
Lera Lynn 'The Avenues' LP £22
Lera Lynn 'Resistor' LP £22
Tegan and Sara ' Love You To Death' LP £22
Stray Cats 'Stray Cats' LP £20
Richard Ashcroft 'These People' 2xLP £22
Ladyhawke 'Wild Things' LP £18
The Beach Boys 'Pet Sounds' LP £20

The Rolling Stones 'Totally Stripped' 2LP/DVD £35
Motorhead 'Clean Your Clock' 2xLP £30
Snoop Doggy Dogg 'Tha Doggfather' 2xLP £20
2 Pac 'All Eyez On Me' 2xLP £25
Mudcrutch '2' LP £22
Architects 'All Our Gods Have Abandoned Us' LP £20
Death in Vegas 'Transmission' 3xLP £28
Charles Bradley 'Changes' LP £20
Terry Reid 'The Other Side of the River' 2xLP £29
Tony Joe White 'Rain Crow' 2xLP £25
Pink Floyd 'Ummagumma' 2xLP £28
Pink Floyd 'More S/T' LP £20
Pink Floyd 'A Saucerful of Secrets' LP £20
Pink Floyd 'Ummagumma' LP £28
Metallica 'Ride the Lightning' LP £26
Paul Simon 'Stranger to Stranger' LP £22
Volbeat 'Seal the Deal & Let's Boogie' 2xLP £25
Paul McCartney & Wings vs Timo Maas '1985' £12

The Bluetones 'Expecting To Fly' LP £20
Lonely The Brave 'Things Will Matter' LP £20
Prince 'Purple Rain' LP £20
Katatonia 'The Fall of Hearts' LP £20
Diana Krall 'Stepping Out' 2xLP £22
ELO 'Out of the Blue' 2xLP £24
ELO 'Eldorado' LP £20
ELO 'A New World Record' LP £20
Leonard Cohen 'Songs of Love and Hate' LP £18
Leonard Cohen 'Songs from a Room' LP £18
Leonard Cohen 'Songs of' LP £18
Tyrannosaurus Rex 'A Crown of Dark Swansdown' LP £20
Metallica 'Kill 'Em All' LP £28
Catfish and the Bottlemen 'THe Ride' LP £22
Eric Clapton 'I Still Do' 2xLP £25
Nirvana 'From the Muddy Banks of the Wishkah' 2xLP £28


Santana 'Santana' LP £20
Santana 'Abraxas' LP £20
KYGO 'Cloud Nine' LP £20
Eagulls 'Ullages' LP £20
Hatebreed 'The Concrete Confessional' LP £12
Grand Magus 'Sword Songs' LP £15
Destruction 'Under Attack' 2xLP £18
Rose Tattoo 'Assault & Battery' LP £20
Yardbirds 'Yardbirds' LP £22
Magna Carta 'Lord of the Ages' LP £24
Gillan & Glover ''Accidentally On Purpose' LP £15
Anti-Nowhere League 'Kings & Queens' LP £26
Bob Dylan 'Fallen Angels' LP £20
Adam and the Ants 'Kings of the Wild Frontier' LP £20
Bruce Foxton 'Smash The Clock' LP £18
Associates 'Silk' £20


Michael Jackson 'Off the Wall' LP £20
Michael Jackson 'Bad' LP £20
Michael Jackson ' Thriller' LP £20


Rock & Roll 'Hall of Fame' LP £24
Cars 'The Best of' 2xLP £26
Cyndi Lauper 'Detour' LP £20
Gregory Porter 'Take Me To The Alley' 2xLP £25
Jean-Michel Jarre 'Electronica 2' 2xLP £22
Chris Isaak 'First Comes The Night' 2xLP £22
Birdy 'Beautiful Lies' LP £20
Prince 'Prince' LP £18
Prince '1999' 2xLP £34
The Rides 'Pierced Arrow' LP £18
Ennio Morricone 'Jubilee' LP £18
Rick Wakeman 'JourneyTo The Centre Of The Earth' LP £20
Steve Earle 'Copperhead Road' LP £22
Steve Earle 'Guitar Town' LP £22
Steve Earle & The Dukes 'Exit O' LP £22
Steve Earle & The Dukes 'The Hard Way' LP £22
Purson 'Desire's Magic Theatre' LP £20
Deep Purple 'Long Beach 1976' 3xLP £24
Rob Zombie 'The Electric Warlock' LP £22
Travis 'Everything At Once' LP £24
Move On Up 2xLP £28
The Cactus Blossoms 'You're Dreaming' LP £20
Flogging Molly 'Within a Mile of Home' LP £15
Clark 'The Last Panthers' LP £20
Discharge 'End of Days' LP £15
Afrco Celt Sound System 'The Source' 2xLP £30
The Jayhawks 'Paging Mr. Proust LP £18
Manfred Mann's Earth Band 'Messin' LP £18
Manfred Mann's Earthband 'Somewhere in Afrika' LP £18


Eva Cassidy 'Nightbird' 4xLP £40
Frightened Rabbit 'Painting of a Panic Attack' LP £20
Deftones 'Gore' LP £22
Cult of Luna 'Somewhere Along the Highway' 2xLP £22
Bruce Springsteen 'We Shall Overcome - The Seeger Sessions' 2xLP £50
Graham Nash 'This Path Tonight' LP £20
Santana iv 2xLP £20
Hawkwind 'The Machine Stops' 2xLP £26

Ella Fitzgerald & Loui Armstrong 'Ella and Louis' LP £16
Count Basie and his Orchestra 'April in Paris' LP £16
Oscar Peterson Trio 'Night Train' LP £16
Charlie Parker with Strings LP £16
Billie Holiday 'Lady Sings the Blues' LP £16


Eric Clapton 'The Live Album Collection 1970-1980

£75




Product Description

"This live album collection brings together all of Eric Clapton's live albums from his Polydor/RSO label recorded period between 1970 – 1980. Each LP reissue is housed together in a full colour rigid slipcase.

1.Derek & The Dominos – Derek & The Dominos In Concert -Live double album, recorded in 1970, released in October 1973. -Recorded at the Fillmore East in New York. -Features – 'Why does Love Got To Be So Sad', 'Let It Rain' and 'Bottle Of Red Wine amongst others.

2.Eric Clapton' Rainbow Concert -Recorded at London's Rainbow Theatre in January 1973 -All star line up includes Pete Townshend, Steve Winwood, Ronnie Wood and Jim Capaldi. -First live performance where Eric used his famous Stratocaster guitar "Blackie". -Features – 'Badge', 'Presence Of The Lord' and 'Pearly Queen' amongst others.

3.Eric Clapton – E.C. Was Here -Recorded in 1974 & 1975 at the Long Beach Arena, California, London's Hammersmith Odeon and the Providence Civic Centre, Rhode Island.

-Peaked #14 in the UK chart and #20 in the US Billboard chart. -Features – 'Have You Ever Loved A Woman' and 'Drifting Blues' amongst others.

4.Eric Clapton – Just One Night -Recorded at the Budokan Theatre, Tokyo, Japan. -Certified gold, the album reached #2 in the US and #3 in the UK. -Features – 'Cocaine', 'Rambling On My Mind' and 'Wonderful Tonight' amongst many others."
James 'Girl At The End of The World' 2xLP £22
Almanac 'Tsar' 2xLP £18
Primal Scream 'Chaosmosis' LP £20
Iggy Pop 'Post Pop Depression' LP £22
Megadeth 'Dystopia' LP £20
Underworld 'Barbara Barbara, We Face...... LP £22
Alabama 3 'Exile on Coldharbor Lane' LP £20
Brian Fallon 'Painkillers'' LP £20
Jeff Healey 'Heal My Soul' 2xLP £20
Joe Bonamassa 'Blues of Desperation' LP £22
David Bowie 'Space Oddity' LP £20
David Bowie 'The Man Who Sold The World' LP £20
David Bowie 'Hunky Dory' LP £20
David Bowie 'Rise and Fall of Ziggy Stardust' LP £20
David Bowie 'Aladin Sane' LP £20
David Bowie 'Pin Ups' LP £20
Dadid Bowie 'At The Beeb' 4xLP £68
As well as large range of NEW VINYL we now have

an extensive range of SECOND HAND VINYL LPs

12" Singles and 7" Singles from ONLY £1.00
Record Players now in stock from ONLY £45 !!!!
If a loved one has a record collection or they want to dip their toes into the vinyl scene,
then try the new Stylo.
Be one of the first to enjoy the 'back-to-basics' record player. It has a switch to select standard speeds 33/45/78 and features built-in speakers, a play/pause lever, an LED blue pilot lamp illuminates to indicate the volume level as you turn the knob.
Suports 3 speeds - 33/45/78 RPM

Ruby Stylus

Aux In 3.5mm for headphones/external speaker connection

Belt drive

Built-in stereo speakers

Play/pause lift receiver

Volume adjust with blue LED indicator

Size: 330mm x 280mm x 115mm

£45
***************************************************************************************************************************************

Want to bring your records with you?
Stylish, lightweight and available in a range of colours the suitcase record player makes it simple for you to play your vinyl wherever you are. Made of wood and bound in leatherette this briefcase styled record player features built in stereo so you can tune in without needing a speaker system.
Features:
Portable briefcase turntable player, enjoy music anywhere anytime!

Built in twin stereo speaker, enjoy high the popular design combine fashion and elegant,

Analogy output: RCA connectors L/R

Digital output: USB port

RPM records: Speed 3 (33,45,78 RPM)

Record your vinyl to a USB stick (supplied in the box)

Available in vintage brown, pillarbox red and sky blue

Accessories: instruction manual, power supply and USB recording stick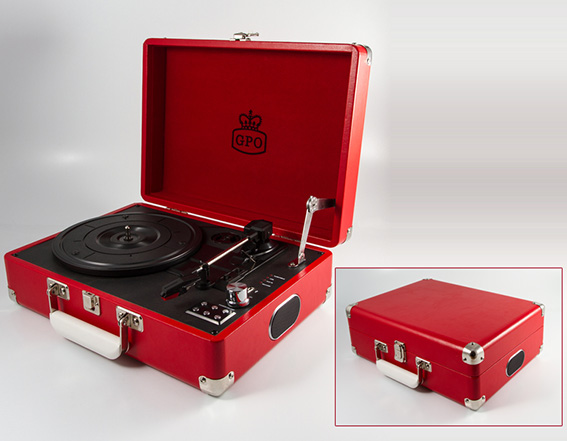 ***********************************************************************************************************************************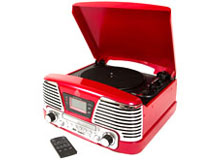 A VINYL TURNTABLE, MP3 PLAYER, FM RADIO AND CD DECK

Bringing style to the vinyl revival, the GPO Memphis is a big personality formed from the American '50s era. This product offers flexibility and versatility, to bring all of your music collection under one hood; this is a must have for any music fan! Convert all your LPs and CDs to MP3 format, then save them to an SD card or USB stick. £140


************************************************************************************************


VISIT OUR EBAY SHOP FOR AN EXTENSIVE RANGE OF

CDs DVDs and Vinyl

http://stores.ebay.co.uk/concordemusicperth





CONCORDE MUSIC
15 Scott Street
Perth
PH1 5EJ

Tel - 01738 621818 email - info@concordemusic.co.uk