Welcome to CONCORDEMUSIC,
a family business established in 1967.

In our shop in Perth, we stock 1000s of CDs & DVDs as well as a large selection of Vinyl LPs, 12" Singles, 7" singles and picture discs, plus Ltd Editon Box Sets on CD & Vinyl.

If you have any queries, please email us @ info@concordemusic.com or if you would like to place an order
over the phone, please contact us on (01738) 621818.

***************************************************************************




U2
'Songs of Innocence'

2LP White Vinyl
Songs of Innocence is U2's most personal work to date, charting the band's earliest influences from 70s rock and punk rock to early 80s electronica and ambient music and giving insight into how and why the band came together. The album deals with themes of home and family, relationships and discovery and was recorded in Dublin, London, New York and Los Angeles and is produced by Danger Mouse, along with Paul Epworth, Ryan Tedder, Declan Gaffney and Flood.

1. The Miracle (of Joey Ramone),

2. Every Breaking Wave

3. California (There Is No End To Love)

4. Song For Someone

5. Iris (Hold Me Close)

6. Volcano

7. Raised By Wolves

8. Cedarwood Road

9. Sleep Like A Baby Tonight

10. This Is Where You Can Reach Me Now

11. The Troubles



***************************************************************************************************************************************

Pink Floyd 'The Endless River'

2xLP


"The Endless River represents a return to the creative principles that informed the writing process that produced Pink Floyd classics like Echoes, Shine On You Crazy Diamond and Animals.

In early 1993, David Gilmour, Nick Mason and Richard Wright set up their equipment in their own Britannia Row Studios in Islington and created more than hundred pieces of music by jamming together, interacting with each other's performances and recording the results.

They then honed the pieces at David's Astoria floating studio, played them live for 2 days at Olympic Studios in Barnes with an extended lineup (Guy Pratt on bass, Jon Carin on keyboards and Gary Wallis on percussion). After that, the core trio returned to Astoria, and worked further on the compositions, alongside co-producer Bob Ezrin, refining the structure, tempos and arrangements. The result, after lyrics and vocals were added, was the 12 million selling 'Division Bell' album.

At the time, there had been talk of a separate ambient album being created from the non-vocal tracks not subsequently issued on 'The Division Bell', but the idea was eventually dropped.

In 2014 David Gilmour and Nick Mason re-entered the studio and, starting with unreleased keyboard performances by Richard Wright, who sadly died in 2008, added further instrumentation to the tracks, as well as creating new material. The result is The Endless River, including 60% of recordings other than the 1993 sessions, but based upon them. The title is a further link, '... the endless river…' being part of the closing phrases of High Hopes, the final song of the previous Pink Floyd album.

David Gilmour describes the record as follows: ""The Endless River has as its starting point the music that came from the 1993 Division Bell sessions. We listened to over 20 hours of the three of us playing together and selected the music we wanted to work on for the new album. Over the last year we've added new parts, re-recorded others and generally harnessed studio technology to make a 21st century Pink Floyd album. With Rick gone, and with him the chance of ever doing it again, it feels right that these revisited and reworked tracks should be made available as part of our repertoire.""

Stylistically, The Endless River includes all of the musical elements that characterize Pink Floyd: mellifluous keyboards, jazz-tinged drums, musique concrete, ethereal vocals, and distinctive, emotional lead guitar. As well as Pink Floyd's trademark backing vocals, there is one vocal track, with lyrics by author Polly Samson, who also contributed to The Division Bell."
Tracklisting -

1. Things Left Unsaid
2. It's What We Do
3. Ebb And Flow
4. Sum
5. Skins
6. Unsung
7. Anisina
8. The Lost Art Of Conversation
9. On Noodle Street
10. Night Light
11. Allons-y (1)
12. Autumn '68
13. Allons-y (2)
14. Talkin' Hawkin'
15. Calling
16. Eyes To Pearls
17. Surfacing
18. Louder Than Words
***************************************************************************
NEW VINYL ARRIVALS
These releases are available in our shop, and can be also purchased by mail order.
You can order by email/phone, paying by Credit/Debit Card or by PayPal.
Any queries, please get in touch : 01738 621818 - info@concordemusic.co.uk





Some of the below are limited, so please check availabilty.


**************************************************************************
The Twelve Days Of Christmas Indie Exclusive

- 12daysofxmasvinyl
RECORD STORE DAY
Label
Date Released
Ship
Artist
Title
Details
Barcode
Catalogue Number
Virgin EMI
01/12/2014
1500
Metallica
Lords Of Summer
12"
6025 47084057
4708405
Limited edition 12-inch vinyl includes "First Pass" (studio) version on side A as well as a live version recorded at the Rock In Rome Sonisphere Festival on July 1, 2014. Side B will feature a laser etching of "M" logo.TRACK LISTING: "First Pass"/"First Pass (Live at Rock In Rome Sonisphere Festival July 1, 2014)"
Apple
02/12/2014
1900
The Beatles
Long Tall Sally
7"
06025 3799505 9
3799505
Released in 1964, "Long Tall Sally" was the fifth Beatles 4 song 7" EP to be released in the UK but it was the first one to be recorded and released with all new material at the time. "Long Tall Sally" is noteworthy as it was one of the songs that Paul sang to John on the first day that they met and because it was recorded in one take with no edits or overdubs. It was recorded on the same day as the band recorded "I Call Your Name" and was originally intended for the film "A Hard Day's Night." In the end, it was decided that the two tracks would be used for a new EP so the band rounded the EP out with the recording of "Slow Down" and "Matchbox." Originally sung by Little Richard, Paul sings lead on the title track, John sings lead on "I Call Your Name" and "Slow Down," while Ringo sings lead on "Matchbox." Like recent reissues of Beatles original albums, this four track EP is also being released in Mono. The "Long Tall Sally" 7" vinyl
UMC
03/12/2014
450
Tim Hardin
Tim Hardin 1
LP
06007 5354354 2
5354354
UMC
03/12/2014
450
Tim Hardin
Tm Hardin 2
LP
00600 7535435 6
5354356
2 x Reissue of previously deleted classic Folk album - Back to Black
UMC
04/12/2014
700
Wings
Let Em In/ Beware My Love
7"
08880 7236607 7
7236607
Vinyl re-pressing of classic mid 70s period Wings release
UMC
05/12/2014
950
Bon Jovi
Live 2
10"
06025 3799420 5
3799420
This is the second in a series of live Bon Jovi Picture Disc. "I'll Be There For You (Live in Lakeland)" and"Runaway (Live in Paris)" are both on vinyl for the first time.Track Listing "I'll Be There For You (Live in Lakeland)", "Lay Your Hands On Me (Live at Giants Stadium)", "Bad Medicine (Live at Wembley)", "Runaway (Live in Paris)"
Capitol
06/12/2014
200
5 Seconds Of Summer
5 Seconds Of Summer
Pic Disc LP
06025 47001122
4700112
12" Picture disc from the hottest boy band around. Bonus song "Wrapped Around Your Finger" exclusive to this release
Caroline
07/12/2014
300
St Vincent
Pieta/Sparrow
10"
08880 7236407 3
LVR3640701
These exclusive new songs were recorded with John Congleton during the St. Vincent sesions in 2013. The propulsive and soaring "Pieta" has become a mainstay in the St. Vincent live show and "Sparrow" is its counterpoint with a deep musing on death and loss that recalls the sonic textures of Big Science-era Laurie Anderson. The two songs are presented in a deluxe, die-cut, foil-embossed package with a 10" disc cut at 45 RPM. The package was designed by Willo Perron, Annie Clark's collaborator on the striking visuals for St. Vincent. Each piece is individually numbered
Island
089/12/2014
500
Weezer
Back to Shack
7"
06025 4711118 0
4711118
Ltd 7" exclusive for the UK and the 12 Days Of Christmas campaign 1 sided
UMC
09/12/2014
450
Shirley Collins / Davy Graham
Folk Roots, New Roots
LP
06025 3796163 4
3796163
Reissue of previously deleted classic Folk album - Back to Black
UMC
10/12/2014
700
Wings
Letting Go/ You Gave Me The Answer
7"
08880 7236608 4
7236608
Vinyl re-pressing of classic mid 70s period Wings release
Fiction
11/12/2014
100
Imagine Dragons
Night Vision
LP Picture Disc
06025 3798675 0
B0021595-01
Ltd Pic Disc version of the Night Vision album
UMC
12/12/2014
1800
The Who
Be Lucky
06025 4711103 6
4711103
7" single, heavyweight vinyl with 'etched' b-side featuring 'Who Hits 50' logo All stock numbered
***************************************************************************************************************************************
David Bowie 'Nothing has Changed' 2xLP £28
Nick Cave & The Bad Seeds 'Abattoir Blues' LP £24
Bryan Ferry 'Avonmore' LP £20
Bette Midler 'It's The Girls' 2xLP £22

Kasabian 'Kasabian' 10" £22
Kasabian 'West Ryder Pauper Lunatic Asylum' 10" £22
Kasabian 'Velociraptor' 10" £22
Kasabian 'Empire' 10" £22
The Jayhawks 'Hollywood Town Hall' LP £20
The Jayhawks 'Tomorrow the Green Grass' LP £20
The Jayhawks 'Sound of Lies' 2xLP £26
The Jayhawks ''Smile' 2xLP £26
The Jayhawks 'Rainy Day Music' 2xLP £26

The Rolling Stones 'From the Vault-Hampton Coliseum 1981' 3xLP/DVD £30
The Rolling Stones 'From the Vault-L.A. Forum 1975 3xLP/DVD £30

Royksopp 'The Inevitable End' 2xLP £20
The Possibilties are Endless S/T Edwyn Collins.. LP £20
Tyrannosaurus Rex 'A Beard of Stars' LP £20
T.Rex 'Electric Warrior' LP £20
T.Rex 'T.Rex' LP £20
Tears for Fears 'Songs from the Big Chair' LP £20
Bryan Adams 'Reckless' 2xLP £25
Machine Head 'Bloodstone & Diamond' 2xLP £20
Foo Fighters 'Sonic Highways' LP £20
Katie Gately 'Tlaotlon' LP £10

Basement Jaxx 'The Singles' 2xLP £22
Tin Wheeler 'Lost Domain' 2xLP £22
Imelda May 'Tribal' LP £25
Adrian Crowley Some Blue Morning' LP £18
2:54 'The Other I' LP £20
Small Faces 'Ogdens' Special Nutgone Flake' LP Pic. Disc £20
Small Faces 'There are but Four Small Faces' LP £20
Small Faces 'Small Faces' LP £20

Wings 'At the Speed of Sound' 2xLP £28
Wings 'Venus and Mars' 2xLP £28

Deep Purple 'Paris 1975' 3xLP £24
The Flaming Lips 'With a Little Help...' LP £22
Grouper 'Ruins' LP £18
Led Zeppelin 'Houses of the Holy' LP £20
2xLP Deluxe £28
Led Zeppelin 'IV' LP £20
2xLP Deluxe £28
Iron Maiden 'Live After Death' 2xLP £28
Iron Maiden ' Powerslave' LP £20
Iron Maiden 'Piece of Mind' LP £20

Purson 'In the Meantime' EP Vinyl £13
Annie Lennox 'Nostalgia' LP £24
Primus and the Chocolate Factory LP £20

Jimmy Barnes 'Hindsight' LP £20
Amaranthe 'Massive Addictive' 2xLP £22
Michael Buble 'Christmas' LP £22
Boards of Canada 'Hi Scores' LP £12
Inspiral Carpets 'Keep the Faith' LP £20
Tindersticks 'Ypres' LP £20
Jimi Hendrix 'Cry of Love' LP £20
Neil Diamond 'Melody Road' 2xLP £30

Ben Howard 'I Forget Where We Were' LP 2xLP £25
Ex Hex 'Rips' LP £18
Bear's Den 'Islands' 2x10" £25
Bush 'The Sea of Memories' LP £18
The Jeff Healey Band 'Legacy:Volume One' 3xLP £25
Christopher Cross 'The Cafe Carlyle Sessions' 2xLP £20
Europe 'Live at Sweden Rock - 30th Anniversary Show' 3xLP £25
Dexys 'Nowhere is Home' Live at the Duke of York's Theatre 4xLP £40
Foreigner 'Can't Slow Down' 2xLP £20
Iron Maiden 'The Number of the Beast' LP £20
Iron Maiden 'Killers' LP £20
Iron Maiden 'Iron Maiden' LP £20
Leonard Cohen 'Popular Problems' LP £20

John Mayall 'A Special Life' 2xLP £24

Ozzy Osbourne 'Memories of a Madman' 2xLP £24
2x Picture Disc £38

Cannibal Corpse 'A Skeletal Domain' LP £20
Picture Disc £20

You+Me 'Rose Avenue' LP £20

​
Jessie Ware 'Tough love' 2xLP £26

Craig Armstrong 'I'ts Nearly Tomorrow' 2xLP £26
Nick Drake 'Pink Moon' LP £16
Nick Drake 'Bryter Later' LP £16
Weezer 'Everything Will Be Alright In The End' LP £24
Dead Kennedys 'Fresh Fruit for Rotting Vegetables' LP £22
Gregory Porter 'Issues of Life' 2xLP £26
We Were Promised Jet Packs LP £16
Vashti Bunyan 'Heartleap' LP £18
Ali Campbell 'Silhouette' LP £20
The Cramps 'Blues Fix' 10" £12
Bob Dylan 'Shelter from a Hard Rain' LP £20
Joni Mitchell 'Live at the Second Fret 1966' 2xLP £20
Gil Scott-Heron 'Free Will' LP £20
Belle and Sebastian 'If You're Feeling Sinister' LP £20
Belle and Sebastian 'The BBC Sessions' 2xLP £25
Belle and Sebastian 'Boy with the Arab Strap' LP £20
Belle and Sebastain 'Sorytelling' LP £20
Belle and Sebastian 'Fold your Hands Child...' LP £20
Belle and sebastian 'Push Barman to Open Old Wounds' 3xLP £35
Frank Sinatra 'Come fly with Me' LP £20
Frank Sinatra 'Moonlight Sinatra' LP £20
Frank Sinatra 'This is Sinatra' LP £20
Frank Sinatra 'In the Wee Small Hours' LP £20
Frank Sinatra 'and Swingin' Brass' LP £20
Johnny Marr 'Playland' LP £18

Buzzcocks 'The Way' LP £18
Hozier 'Hozier' 2xLP £25
Johnny Cash 'The Legend of' 2xLP £25
Underworld 'Dubnobasswithmyheadman' 2xLP £25
Oasis (What's The Story) Morning Glory ? 2xLP £28

Stevie Nicks 'Songs from the Vault' 2xLP £24
Ice T 'Power' LP £18
Ice T 'Rhyme Pays' LP £18
Body Count 'Body Count' LP £18
Agnes Obel 'Aventine-Philharmonics' 2xLP/2xCD's £24
Lower Than Atlantis White vinyl LP/CD £22
Gorgon City 'Sirens' 2xLP
Abba 'Live at Wembley' 3xLP £28

Holly Johnson 'Europa' LP 2xLP/CD £24
The Vaselines 'V for Vaselines' Red LP/CD £20
Big Country 'Steeltown' 2xLP £26
The Bluebells 'Exile on Twee Street' Songs from Glasgow 1980-1982 LP £18
Lucinda Williams 'Down Where The Spirit Meets The Bone' 3xLP £25
Banks 'Goddess' LP 2xLP £26
Jamie T 'Carry on the Grudge' LP £25
Gerard Way 'Hesitant Alien' LP £18

Joe Bonamassa 'Different Shades of Blue' LP £22
Picture Disc £22
Deep Purple 'Copenhagen 1972' 3xLP £24
Alt-J 'This is all Yours' LP 2xLP £24
Bonnie Prince Billy 'Singer's Grave A Sea of Tongues' LP £20
Dave and Ansell Collins 'Double Up!!' LP £15
Pere Ubu 'Carnival of Souls' LP £20
Goat 'Commune' LP £22
Wire 'Document and Eyewitness' LP £24
Queen 'Live at the Rainbow' 74 2xLP £38
God Help the Girl Soundtrack 2xLP £28
Jimi Hendrix 'Rainbow Bridge' Soundtrack LP £22
Train 'Bulletproof Picasso' LP £22
Bob Dylan 'The Freewheelin' LP £20
Jeff Buckley 'Grace' LP £20
Dr. Feelgood 'Sneakin' Suspicion' LP £20
Tom Petty 'In the Coliseum' LP £20
Lou Reed 'Hassled in April' LP £20
Deacon Blue 'A New House' £15
Deep Purple 'Graz 1975' 2xLP £24
Counting Crows 'Somewhere Under Wonderland' LP £25
Franz Ferdinand 'Late Night Tales' 2xLP £22
Slash 'World on Fire' LP 2xLP £25
New Model Army 'Between Wind and Blood' LP £24
Johnny Winter 'Step Back' LP £15
KlangKarussell 'Netzwerk' LP £22
The Pierces 'Creation' LP £20
George Michael 'Symphonica' 2xLP £28
Fairground Attraction 'The First of a Million Kisses' LP £18
R.E.M. 'Unplugged 1991' 2xLP £26
R.E.M. 'Unplugged 2001' 2xLP £26
Barclay James Harvest 'Gone to Earth' LP £22
Barclay James Harvest 'Everyone is Everybody Else' LP £22
Portishead 'Dummy' LP £24
Annie Eve 'Sunday '91' LP £20
Royal Blood 'Royal Blood' LP £20
Opeth 'Pale Commiunion' 2xLP £24
Earth 'Primitive and Deadly' LP £25
Camel 'Moondance' LP £20
Camel 'The Snow Goose' LP £20
Wilko Johnson 'Best of' 2xLP £25
Sinead O'Connor 'I'm Not Bossy, I'm The Boss' LP £20
Slabs of Humdingers Vol.1 LP £20
Red Hot Chilli Peppers 'Californication' 2xLP £22
Beyonce 'Beyonce' Ltd.2xLP/DVD/Booklet £25
PussNBoots 'No Fools, No Fun' LP £22
Every Time I Die 'From Parts Unknown' LP £20
Jethro Tull 'A Passion Play' LP/Booklet £26
Eric Clapton & Friends 'The Breeze - An Appreciation of JJ Cale' 2xLP £28
Para One 'Club' 2xLP £18
The Best of 2 Tone 2xLP £26
Woods of Ypres 'Against the Seasons' LP £18
Naomi Shelton 'Cold World' LP £18
King Creosote 'From Scotland with Love' 1xLP £18
2xLP £24
Anderson, Bruford, Wakeman & Howe 'An Evening of Yes Music' Vol.1 2xLP £20
Anderson, Bruford, Wakeman & Howe 'An Evening of Yes Music' Vol.2 2xLP £20
Country Funk 1967-1974 2xLP £28
Dolly Parton/Linda Ronstadt/Emmylou Harris 'Trio' LP £18
John Hiatt 'Terms of my Surrender' LP £18
John Fullbright 'Songs' LP £18
Morrissey 'World Peace is None of Your Business' 2xLP £28
Cara Dillon 'A Thousand Hearts' LP £20
Honeyblood 'Honeyblood' LP £18.00
Embrace 'Refugees' EP £10
Judas Priest 'Redeemer of Souls' 2xLP £22
Eric Johnson 'Europe Live' 2xLP £22
Cocteau Twins 'Heaven or Las Vegas' LP £18
Rise Against 'The Black Market' LP £22
Country Funk 1967-1974 2xLP £28
Stephen Steinbrink 'Arranged Waves' LP £18
Wheedle's Groove Vol.2 1972-1987 2xLP £28
Lewis 'Lamour' LP £22
Midge Ure 'Fragile' LP £20
Nickel Creek 'A Dotted Line' LP £25
Ministry 'Last Tango in Paris' Live 2012 2xLP £28
Manic Street Preachers 'Futurology' £20
Corb Lund 'Counterfeit Blues' LP £22
John Frusciante 'Outsides' LP £8.00
Blondie 'Greatest Hits' 2xLP £28
Bob Marley ' Legend' 2xLP £28
Bellowhead 'Revival' LP £20
The Prodigy 'Their Law - The Singles' 2xLP £22
David Gray 'Mutineers' 2xLP £22
Syd Barrett ''Barrett' LP £18
Syd Barrett ''Opel' LP £18
Syd Barrett 'The Madcap Laughs' LP £18

Pink Floyd 'The Division Bell' LP £28
Kiss 'Alive 2' 2xLP £26
The Secret Sisters 'Put Your Needle Down' LP £26
Pink Fairies' Fuzz Freakout'
LP £26
Ed Sheeran 'X' 2xLP £22
Animal Ambition 'An Untamed Desire to win' LP £20
George Ezra ' Wanted on Voyage' LP £20
Gram Parsons 'GP' LP £20
Peter Murphy 'Lion' 2xLP £20
Eels 'Beautiful Freak' LP £22
John Mayall 'A Sense of Place' LP £22
Eric Clapton & BB King 'Riding with the King' 2xLP £26
Eric Clapton 'From the Cradle' 2xLP £26
Woods of Ypres 'Pursuit of the Sun & Allure of the Earth' LP £18
Mastodon 'Once More 'Round the Sun' 2xLP £25
Hank Williams 'The Garden Spot Programs, 1950' LP £22
Martin Creed 'Mind Trap' LP £24
Bob Mould 'Beauty and Ruin' LP £20
The Doors 'Weird Scenes Inside the Gold Mine' 2xLP £25

Specials 'Specials' LP £25
Specials 'More Specials' LP £25
Ben Frost 'Aurora' LP £22
The Black Keys 'Turn Blue' LP £25
Archive 'Axiom' LP/CD/DVD £22
Moulettes 'Constellations' LP £18
Joe Bonamassa 'Royal Albert Hall' 2xLP £25
Joe Bonamassa 'Hammersmith Apollo' 3xLP £25
Joe Bonamassa 'The Borderline' 2xLP £25
Joe Bonamassa 'Shepherds Bush Empire' 3xLP £25
Paul Weller 'More Modern Classics' LP £30
Passenger 'Whispers' 2xLP £25
James 'La Petit Mort' LP £22
Echo and the Bunnymen 'Meteorites' 2xLP/CD £22
Royksopp & Robyn 'Do It Again' LP £16
Chrissie Hynde 'Stockholm'' LP £22
Peter Molinari 'Theosophy' LP £20
Sturgill Simpson 'Metamodern Sounds in Country Music' LP £16
Klaxons 'Love Frequency' 2xLP £22
Paws 'Youth Culture Forever' LP £18
Avatar 'Hail the Apocalypse'' LP £22
Arch Enemy 'War Eternal' LP £18
First Aid Kit 'Stay Gold' LP £22
e
Hawkwind 'Hawkwind' 2xLP
Hawkwind 'Doremi Fasol Latido' 2xLP
Hawkwind 'In Search of space' 2xLP
Hawkwind 'Hall of the Mountain Grill' 2xLP
***************************************************************************************************************************************
Record Players now in stock from ONLY £45 !!!!
***************************************************************************************************************************************
G056D
Soundlab Compact I-Phono USB Turntable Kit with Audacity Software and Lead
Ingenious ready to use USB turntable that allows vinyl records to be converted into a digital format and saved on to a PC. The product contains everything you need to make professional recordings on a PC and even includes an easy to use but feature-laden version of Audacity software, a professional quality USB lead, hi-fi quality stylus and robust dust cover.
• Idiot-Proof Software Included
• Can be Used on 33, 45 and 78 records
• Stylish and Compact Table Top Design £70.00



***************************************************************************************************************************************

If a loved one has a record collection or they want to dip their toes into the vinyl scene,
then try the new Stylo.
Be one of the first to enjoy the 'back-to-basics' record player. It has a switch to select standard speeds 33/45/78 and features built-in speakers, a play/pause lever, an LED blue pilot lamp illuminates to indicate the volume level as you turn the knob.
Suports 3 speeds - 33/45/78 RPM

Ruby Stylus

Aux In 3.5mm for headphones/external speaker connection

Belt drive

Built-in stereo speakers

Play/pause lift receiver

Volume adjust with blue LED indicator

Size: 330mm x 280mm x 115mm

£45
***************************************************************************************************************************************

Want to bring your records with you?
Stylish, lightweight and available in a range of colours the suitcase record player makes it simple for you to play your vinyl wherever you are. Made of wood and bound in leatherette this briefcase styled record player features built in stereo so you can tune in without needing a speaker system.
Features:
Portable briefcase turntable player, enjoy music anywhere anytime!

Built in twin stereo speaker, enjoy high the popular design combine fashion and elegant,

Analogy output: RCA connectors L/R

Digital output: USB port

RPM records: Speed 3 (33,45,78 RPM)

Record your vinyl to a USB stick (supplied in the box)

Available in vintage brown, pillarbox red and sky blue

Accessories: instruction manual, power supply and USB recording stick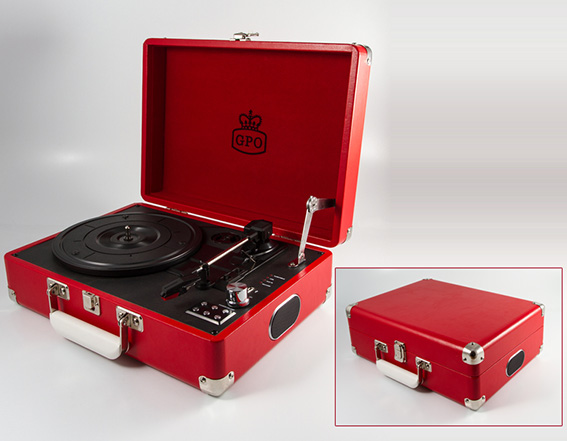 ***************************************************************************************************************************************




VISIT OUR EBAY SHOP FOR AN EXTENSIVE RANGE OF

CDs DVDs and Vinyl

http://stores.ebay.co.uk/concordemusicperth





CONCORDE MUSIC
15 Scott Street
Perth
PH1 5EJ

Tel - 01738 621818 email - info@concordemusic.co.uk