Scotlands OLDEST Established Family Record Shop founded in 1967

In our shop in Perth, we stock 1000s of CDs & DVDs as well as a large selection of Vinyl LPs,12" Singles, 7" singles and picture discs, plus Ltd Editon Box Sets on CD & Vinyl.

Plus an extensive range of Second Hand Vinyl covering all genres of music

If you have any queries, please email us @ info@concordemusic.com
or if you would like to place an order
over the phone, please contact us on (01738) 621818.

Concorde Music Shop
15 Scott Street, Perth PH1 5EJ

OPENING TIMES - Monday to Saturday 9.00am - 4.45pm



**************************

First visit earlier this month to this fantastic (proper) wee record shop. I say wee, its small in stature but big on everything music, every inch of the store is covered in vinyl, cds and music paraphernalia. Great selection of new and second hand vinyl, cds, new releases and special editions. I spent ages just browsing until the final decision was made and all the while the staff were friendly and very helpful. Can't wait to go back now........


28 February

·

I am a huge music fan with wide variety of styles and totally addicted to this little place. Great selection of new releases to second hand LPs and singles. Classical, jazz, blues, folk, rock, pop, metal,you are up for a treat. And the staff is fantastic.

3 May 2017

·

Been shopping here for over 40 years. Extensive stock of CDs, DVDs and vinyl that cater to all tastes. Great selection of box sets and special editions and can order in what you require. Customer service is exceptional and of the highest calibre. Always a joy to visit and find something new or a rare item from the stock of previously owned LPs and singles.

*******************************
DAVID BOWIE



In Bertolt Brecht's Baal [10" VINYL] Single,
Limited Edition.

Overview:

David Bowie In Bertolt Brecht's Baal features Bowie performing five songs that were written for German playwright Bertolt Brecht's 1918 play "Baal." Bowie recorded this EP with Visconti at Hansa Studios in Berlin in November 1981.

Recently, all five songs were re-released as part of the exclusive Re:Call 3 compilation that accompanied the boxed set, A New Career In A New Town (1977-1982). This new limited edition 10" vinyl reissue comes in a six-panel sleeve that replicates the original 1982 packaging and is available exclusively at "brick and mortar" retail stores.

Track Listing:

Side 1:

Baal's Hymn (Der Choral Vom Großen Baal)
Remembering Marie A. (Erinnerung An Die Marie A.)

Side 2:
Ballad Of The Adventurers (Die Ballad Von Den Abenteurern)
The Drowned Girl (Vom Ertrunkenen Mädchen)
The Dirty Song



'Ask Instore for details'

*************************************************************************************************************
DAVID BOWIE



Christiane F - Wir Kinder Vom

Christiane F. – Wir Kinder Von Bahnof Zoo is the soundtrack to the 1981 film based on the 1978 autobiography by German actress Christiane Vera Felscherinow. The soundtrack incorporates songs from several Bowie albums, including "Stay" (Station To Station, 1976), "Warszawa" (Low, 1977) "V-2 Schneider" ("Heroes", 1977), and "Look Back In Anger" (Lodger, 1979.)
Released on vinyl for the first time in 30 years, this fan favourite is pressed on limited edition red vinyl and available exclusively at "brick and mortar" retail stores.
Track Listing:
Side 1:
V-2 Schneider
Side2:
Station To Station
Look Back In Anger

'Ask Instore for details'
****************************************************************************************
Limited Edition, Red Coloured 180g Vinyl,
In Hand Numbered Sleeve with Insert By the mid-60s, the Rolling Stones were arguably the most exciting live band in the world, playing to riotous houses wherever they went. This superb new collection gathers three historically important performances at Olympia, Paris, broadcast on Musicorama (Europe 1) French radio, capturing them in transition from Britain s leading R&B band to something more adventurous. It s presented here together with background notes and rare images. 1. Everybody Needs Somebody To Love 0:40 2. Around & Around 2:28 3. Time Is On My Side 2:44 4. It s All Over Now 3:13 5. 19th Nervous Breakdown 3:44 6. Get Off Of My Cloud 3:03 7. The Last Time 2:52 1. Paint It, Black 2:29 2. Under My Thumb 2:29 3. Ruby Tuesday 3:23 4. Let s Spend The Night Together 3:02 5. (I Can t Get No) Satisfaction 2:59
£24
*************************************************************************
What's That Sound?



Complete Albums Collection Box set 5xLP

£100

*****************************************************************

NEW SECOND HAND ARRIVALS
Sleeve
Very Good
* Vinyl
Very Good
Russian Pressing
£25
Sleeve
Very Good
* Vinyl
Near Mint
£20
Sleeve
Very Good
* Vinyl
Near Mint
£20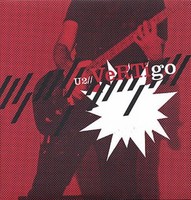 Sleeve
Very Good
* Vinyl
Very Good
PLUS 7" Single
£25
Sleeve
Good *
Vinyl
Very Good
£25
Sleeve
Good *
Vinyl
Very Good
£25
Sleeve

Good

* Vinyl

Very Good



Brunswick Label LAT8616

£50
​​​​​
To celebrate
Record Store Day 2018
, Rega
are extremely proud to bring you their exclusive new limited-edition turntable with long-term partners Rega
Research.
Built around the stunning high gloss acrylic skin plinth from the award winning Rega Planar 2, this year's turntable delivers a serious punch.
Featuring a high performance low noise 24v high spec motor driving a precision main bearing and unique white platter, topped with a Rega / Record Store Day themed mat.

You will also find the award-winning hand-built RB110 tonearm (factory fitted with a Rega Carbon cartridge) designed to deliver exceptional performance whilst remaining one of the simplest turntables to set-up on the market.
All of these quality engineered components are designed to extract as much information from the vinyl surface as possible and guarantee to give your record collection a new lease of life.
Simon Webster of Rega Research said "This years limited edition Record Store Day turntable is a unique hybrid of two of Rega's most popular multi-award winning Planar turntables.
Taking full advantage of our latest design technology, the turntable also includes a custom design mat and exclusive white platter offering premium looks and truly exceptional performance in a simple to use package. We are extremely excited to see this new turntable rolling out for Record Store Day UK 2018 - a turntable designed to bring the best out of those fantastic new releases."

Discrete RSD Design.
RB110 Tone Arm.
Exclusive White Acrylic Platter and Custom Design Mat.
Limited Edition - Only 500 manufactured.

£275
*************************************************************
These releases are available in our shop, and can be purchased by Mail Order.


You can order by email or phone, paying by Credit/Debit Card or PayPal.

Any queries, please get in touch.

01738 621818 sales@concordemusic.co.uk


Some of the below are limited, so please check availabilty.








TROJAN 50th ANNIVERSARY PICTURE DISC

£20




1. Israelites - Desmond Dekker

2. Let Your Yeah Be Yeah - The Pioneers

3. Liquidator - Harry J Allstars

4. Everything I Own - Ken Boothe

5. Dollar in the Teeth - The Upsetters

6. Help Me Make It Through the Night - John Holt

7. Uptown Top Ranking - Althea Forrest & Donna Reid

8. Girlie Girlie - Sophia George

9. Hurt So Good - Susan Cadogan

10. Double Barrel - Dave Collins & Ansel Collins

11. To Be Young Gifted & Black - Bob Andy & Marcia Griffiths

12. Love of the Common People - Nicky Thomas





THE 20TH ANNIVERSARY EDITION OF THE ORIGINAL FLEETWOOD MAC GUITARIST'S AWARD-WINNING BLUES ALBUM ON VINYL FOR THE FIRST TIME FEATURING NEW ARTWORK

Peter Green is widely regarded as one of the finest guitarists of his generation. His virtuoso blues playing was an integral part of the sound of the original Fleetwood Mac, which he founded in 1967, and his tortured lead placed him on a par with legends such as Eric Clapton, Jeff Beck and Jimmy Page. In the early '70s Green left the band and he was to spend much of the next three decades in the wilderness, battling a number of health issues.
He re-emerged in the late 1990s performing with the Peter Green Splinter Group, and the second album of his remarkable revival, 'The Robert Johnson Songbook', is one of the greatest classic blues records and was the first British album to win the prestigious WC Handy Award. It was released in the same year that Green was inducted into the Rock & Roll Hall of Fame, on the 18th May - almost 20 years to the day before the release of this celebratory version, but still sounds as timeless and as important now as it did back then. The music features 16 exquisitely heart-breaking performances of the best Johnson originals, with Green on lead guitar, harmonica and vocals, plus support from Nigel Watson, Roger Cotton, Larry Tolfree, Neil Murray and guest Paul Rodgers.
This edition of Peter Green's 'The Robert Johnson Songbook' will be available as an LP for the first time, pressed on to 180g heavyweight audiophile vinyl in single packaging including a 2-page insert with sleeve notes and new artwork. £20





3LP SET

Celebrating 50 Years :
Paul Rodgers and the music of Free

This sold out concert at the Royal Albert Hall was captured for a live CD/DVD set to be released by Quarto Valley Records, June 22, 2018. 'Free Spirit', the 16-song collection filmed in London, England returned Paul Rodgers to his roots, bringing fans an extraordinary evening celebrating the music of Free. Included are incredible opening performances by Jasmine Rodgers and Deborah Bonham. Paul performs rock classics like "All Right Now," "Wishing Well," "Fire and Water," and many deep tracks—some of which were never performed live by the original band, such as "Love You So" and "Catch a Train." Beginning his iconic music career as a founding member, main songwriter, and front man for Free, Rodgers is regarded as one of the greatest vocalists in rock history by contemporaries and fans. According to Eric Clapton, "Paul Rodgers is the real deal," while Robert Plant says, "Paul Rodgers [is] the voice of all British voices." Rodgers has sold over 125 million records worldwide with his legendary bands Free, Bad Company, The Firm and as a Grammy-nominated solo artist.

£34






Jilted John




True Love Stories 40th Anniversary Edition (+7"") [VINYL

]

Vinyl LP pressing including bonus 7" single. Jilted John is the legendary punk/new wave creation of Graham Fellows (nowadays better known as John Shuttleworth) who's eponymous single was released back in 1978, rising to #4 in the charts and selling nearly half a million copies in the process, and became the most hated song by people called Gordon ever released with it's anthemic "Gordon is a Moron" chant. The single was followed by cult classic album True Love Stories, which has been name checked by many as a real inspiration to the likes of Jarvis Cocker and more with it's concept album of the trials and tribulations of Jilted John's teenage angst. Fast forward to 2018, and to coincide with a Jilted John 40th anniversary tour, here is a rather special 40th Anniversary Edition of not only the classic album, which has been out of print on vinyl for over 35 years, but also the legendary 7" single included complete in picture sleeve as per the original Rabid Records release back in 1978. The package also includes new liner notes from Graham Fellows, and a replica of the original "Mice And Ladders" board that featured in the very initial pressing, and collectors have been searching high and low for in copies for the past 40 years!

£20








The Selecter is led by their iconic frontwoman Pauline Black, alongside an incredible talented band of musicians, and co-fronted by original member Arthur 'Gaps' Hendrickson. The anarchic passion that fuelled Selecter gigs during the 2 Tone era is still there, except the pair (Pauline & Gaps) are more driven than ever. Their confidence is sky-high and they're also writing the best songs of their career, which is saying something given the enduring popularity of hits like Three Minute Hero, Missing Words and On My Radio. The Selecter teamed up with The Beat feat. Ranking Roger last year to give fans a rare treat, hitting the road together for a number of co-headline shows. Originally a six-date tour, due to phenomenal demand they played nearly 40 dates together in 2017 selling over 40,000 tickets in the UK and Europe including a sold-out show at London's iconic Roundhouse. Life-long friends, The Selecter and The Beat feat. Ranking Roger are two of the main bands to come out of 2 Tone – a crucial musical and cultural movement which is still as relevant today as it was over 30 years ago.



DVD - A bonus DVD of The Selecter Live At The Roundhouse 2 LP Set

£30








Northern Soul Anthems contains 26 Classic Tracks of Northern Soul Pressed on 2x 180G Heavyweight Black Vinyl. Housed in a Gatefold Sleeve with Original Photography from 'Northern Soul' (2014) filmmaker Elaine Constantine. Defining Northern Soul Anthems from Judy Street, Al Green, Sue Lynne, Chairmen Of The Board, The Vibrations, Little Richard, The Charmaines, Willie Kendrick, Gloria Edwards + more.

£24









GUNS N' ROSES

'APPETITE FOR DESTRUCTION'

First Ever Album Remaster from Original Analog Tapes. Original Album Expanded to 2-LPs for Maximum Audiophile Playback. Vinyl Cut from 192kHz 24-bit Remastered High-Resolution Audio. Limited Edition Foil Art Slipcase. Side 4 Extra Bonus: Hologroove Hologram of GNR Logo. Download Card Sticker for

44.1kHz 16-bit Digital Album

£34









ARCTIC MONKEYS





Tranquility Base Hotel + Casino



Arctic Monkeys return with their new album, entitled 'Tranquility Base Hotel & Casino'. Produced by James Ford and Alex Turner, the album was recorded in Los Angeles, Paris and London.



CD £12 * LP £24 * Clear Vinyl £28




*******************************************



The Jayhawks 'Back Roads and Abandoned Motels' LP £20
Erasure 'World Be Live' 3xLP £26
Wire 'Chairs Missing' LP £20
Wire '154' LP £20
Wire 'Pink Flag' LP £20
Bullet for My Valentine 'Gravity' LP £20
Sparks 'The Best & The Rest of the Island Years' 2xLP £28
Florence + The Machine 'High as Hope' LP £24
Churches 'Love is Dead' Blue Vinyl LP £24
Roger Daltrey 'As Long As I Have You'' LP £20
Jesus and Mary Chain '21 Singles 1984-1998' LP £25
Ska & Reggae Classics 2xLP £25
Madonna 'Like a Virgin' White Vinyl LP £20
Rick Astley 'Beautiful Life' LP £20
Grateful Dead 'Anthem of the Sun' Picture Disc £20
Crosby, Stills & Nash 'Daylight Again' LP £20
Crosby, Stills & Nash 'CSN' LP £25
Ray Davies 'Our Country Americana Act 2' 2xLP £22
Johnny Marr 'Call the Comet' LP £20 / Coloured Vinyl £22
Sisters of Mercy 'Greatest Hits' Vol.1 LP £24
Wilko Johnson 'Blow Your Mind' LP £20
The Gaslight Anthem 'The '59 Sound' LP £20
Spandau Ballet 'Gold The Best of' 2xLP £25
The 60S Pop Annual 2xLP £24
The Darkness 'Live at Hammersmith' 2xLP £24
Chris Rea 'The Road to Hell' LP £20
Panic at the Disco 'Pray For The Wicked' LP £20
Pogues 'The Best of' LP £18
Anthrax 'The Greater Of Two Evils' 2xLP £20
Nine Inch Nails 'Bad Witch' LP £20
The Orb 'No Sounds' LP Blue Vinyl £25
Megadeth 'Killing Is My Business...' 2xLP £24
Sleep 'The Sciences' 2xLP £26
Bruce Dickinson 'Scream For Me Sarajevo' S/T 2xLP £24
Gorillaz 'The Now Now' LP £24
Blackberry Smoke 'The Whippoorwill' 2xLP Purple Vinyl £18
Eric Clapton 'August' LP £20
Snow Patrol 'Wildness' LP Picture Disc £20
Churches 'Love is Dead' Clear Vinyl LP £25
Madonna 'Immaculate Collection' 2xLP £24
Emmylou Harris 'The Ballad of Sally Rose' 2xLP £28
The Flaming Lips 'Greatest Hits Vol.1' LP £20
Faces 'Snakes and Ladders / The Best of' LP £18
The Notorious B.I.G 'Greatest Hits' 2xLP £24
Enya 'The Very Best of' LP £20
Beside Bowie 'The Mick Ronson story' 2xLP £34
Tom Waits 'Small Change' LP £20 / Coloured Vinyl £22
Cream 'Live in Detroit '67' 2xLP Limited Coloured Vinyl £30
Dave Alvin and Jimmie Dale Gilmore 'Down To Lubrock' 2xLP £24
Midge Ure 'Orchestrated' 2xLP Ltd Clear Vinyl £22
Ben Howard 'Noonday Dream' 2xLP £24
Phil Collins 'The Singles' 2xLP £24
Ash 'Islands' LP £22
Steve Miller Band 'Fly Like an Eagle' LP £20
Steve Miller 'The Joker' LP £20
James Bay 'Electric Light' LP £24
Wings 'Greatest' LP £22
Cockney Rebel 'Human Menagerie' LP £22
Sparks 'Exotic Creatures of the Deep' 2xLP £28
Lenny Kravitz 'Greatest Hits' 2xLP £26
Stone Temple Pilots LP £20
Janis Ian 'Between the Lines' LP £20
Soul Weekender 2xLP £20
Kris Kristofferson 'Live from Austin TX' 2xLP £28
Joan Armatrading 'Not Too Far Away' LP £20
Buffy Sainte-Marie 'Power in the Blood' LP £18
Bjork 'Arisen My Senses' 12" Coloured Vinyl £10
Calvin Harris 'Ready For The Weekend' 2xLP £22
Calvin Harris 'I Created Disco' 2xLP £22
Loreena McKennitt 'Lost Souls' LP £20
Ry Cooder 'The Prodigal Son' LP £22
The Magic Numbers 'Outsiders' LP £18
John Prine 'The Tree of Forgiveness' LP £20
Courtney Barnett 'Tell Me How You Really Feel' LP £20
The Fall & Mark E Smith 'Best of' LP £18
Five Finger Death Punch And Justice for None 2xLP £22
Ray LaMontagne 'Part of the Light' Clear Vinyl LP £22
Tom Waits 'The Heart of Saturday Night' LP £20
Cockney Rebel 'The Psychomodo' LP £22
Pink Floyd 'Relics' LP £20
Joe Bonamassa 'British Blues Explosion' 3xLP £25
Erasure 'World Beyond' Red Vinyl LP £22
Simon and Garfunkel 'Greatest Hits' LP £20
Santana 'Caravanserai' LP £20
Pink 'I'm Not Dead' LP £22
Pink 'The Truth About Love' LP £22
Pink 'Funhouse' LP £22
Belly 'Dove' LP Coloured Vinyl £16 / Coloured Splatter Vinyl £16
Sting & Shaggy '44/876' LP £22
Gaz Coombes 'World's Strongest Man' LP £22
Frank Turner 'Be More Kind' LP £20
The Temptations 'All The Time' LP £20
Kacey Musgrave ' Golden Hour' LP £22
Reef 'Revelation' LP £20
The Rolling Stones 'Honlulu 1966' LP £25
Nirvana 'Halloween Seattle '91' 2xLP £30
Black Stone Cherry 'Family Tree' 2xLP £22
Steve Ellis 'Boom! Bang! Twang! LP £20
Dokken 'Return To The East Live, 2016' 2xLP £24
The Who 'Live at the Fillmore East 1968' 3xLP £32
Dokken 'Return to the East Live 2016' 2xLP £24
Jethro Tull 'Heavy Horses' LP + 24 Page Booklet £20
Brothers Osborne 'Port Saint Joe' LP £20
John Fogerty 'Centrefield' LP £22
Chris Farlowe 'Live at the BBC' 2xLP £35
JCM 'Heroes' Jon Hiseman / Clem Clempson / Mark Clarke LP £35
Blossoms 'Cool Like You' LP £24
Van Morrison and Joey Defrancesco 'You're Driving Me Crazy' 2xLP £22
Matt Cardle 'Time To Be Alive' 2xLP £22
Neil Young 'Roxy, Tonights the Night Live' 2xLP £30
Parkway Drive 'Reverence' LP £20



Baby Driver Volume 2 LP £20
Jean Michel Jarre 'Chronology' LP £20
Jean Michel Jarre 'Revolutions' LP £20
Eurythmics 'Touch' LP £20
Eurythmics 'In The Garden' LP £20
Eurythmics 'Sweet Dreams' LP £20
Neil Young + Promise of the Real 'Paradox' 2xLP £30
Kings of Leon 'Come Around Sundown' 2xLP £22
Jimi Hendrix 'Band of Gypsys' LP £20
Dr Octagon 'Moosebumps' 2xLP £28
The Damned 'Evil Spirits' LP £20
Barry White 'Love's Theme' 2xLP £28
Gary Barlow 'Open Road' LP £20
Manic Street Preachers 'Resistance Is Futile' LP £20
Neil Cowley Trio 'Spacebound Tapes' 12" £10



The Courteeners 'St. Jude' LP £20
Kylie 'Golden' LP £20 * Clear Vinyl £24
Blackberry Smoke 'Find a Light' LP £20
Dead Daisies 'Burn It Down' LP £18 / Pic Disc £28
The Streets 'A Grand Don't Come For Free' 2xLP £28
The Streets 'Original Pirate Material' 2xLP £28
Automata 1 'Between The Buried and Me' LP £22
Lisa Stansfield 'Deeper' 2xLP £22
Johnny Cash 'Forever Words' 2xLP £22
Elvis Presley 'The Searcher' 2xLP £22
Morbid Angel 'Heretic' LP £18
Five Finger Death Punch 'A Decade of Destruction' 2xLP £24
Ian Dury 'New Boots and Panties' 2xLP £30
Ben Harper and Charlie Musselwhite 'No Mercy In This Land' LP £20
David Bowie 'ChangesTwo Bowie' LP £20


Rick Parfitt 'Over and Out' LP £18
Rick Parfitt 'Over and Out' The Band's Mix LP £18
Miles Davis & John Coltrane 'The Final Tour' LP £20
Thunder 'Stage' 3xLP £25
The Moody Blues 'Days Of Future Passed Live' 2xLP £22
The Cars 'Shake it Up' 2xLP £28
The Cars 'Heartbeat City' 2xLP £30
Saxon 'Wheels of Steel' LP £22
Saxon 'Saxon' LP £22
Saxon 'Strong Arm of the Law' LP £22
Cabage 'Nihilistic Glamour Shots' LP £20
The Greatest Showman S/T LP £20
Trembling Bells 'Dungeness' LP £18
The Vaccines 'Combat Sports'

Orange Vinyl LP

£22
Kim Wilde 'Here Come The Aliens' LP £18


Joan Baez 'Whistle Sown The Wind' LP £18
Jimi Hendrix 'The Best of' 2xLP £22
Jimi Hendrix 'Both Sides of the Sky' 2xLP £22
Cocteau Twins 'Head Over Heels' LP £18
Cocteau Twins 'Treasure' LP £18
Paul Simon 'Complete Unplugged' 2xLP £20
Dylan & Petty 'Live on the Radio '86'

PICTURE DISC

LP £24
The Zombies 'Still Got That Hunger' LP £20
The Fratellis 'In Your Own Sweet Time' LP £22
The Alarm 'Eponymous' 2xLP £24
The Alarm 'Declaration' 2xLP £24
Vashti Bunyan 'Just Another Diamond Day' LP £18he
The Paul Butterfield Blues Band 'Live 1966' 2xLP £22
Rory Gallagher 'Live! In Europe' LP £20
George Ezra 'Staying at Tamara's' LP £20 * White Vinyl £22



Franz Ferdindand 'Always Ascending' LP £24
Toto '40 Trips Around The Sun' LP 2xLP £22
Brian Fallon 'Sleepwalkers' 2xLP £26
Belle & Sebastian 'How To Solve Our Human Problems' 3xEP Box with Poster £35
Pixies 'Doolittle 25' 2xLP £25
Godflesh 'Post Self' LP £18
Voodoo Circle 'Raised on Rock' LP £28
Traffic 'Live on air 1967' LP £24
The Jeff Beck Group 'Live on Air 1967' LP £24
UB40 'A Real labour of Love' 2xLP £28
Janis Joplin 'Greatest Hits' LP £20
Stephen Stills & Judy Collins 'Everybody Knows' LP £20
Superorganism LP Deluxe Glow-in- the-Dark Sleeve £25
Moby 'Everything was Beautiful' LP £22
Stone Broken 'Ain't Always Easy' LP £20




**************************************************************************************





WE NOW HAVE AN EXTENSIVE RANGE OF SECOND HAND VINYL
7" and 12" Singles LPs 78s
POP/ROCK CLASSICAL
JAZZ COUNTRY VOCAL
INSTRUMENTAL SCOTTISH
from only £1.00.......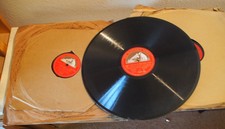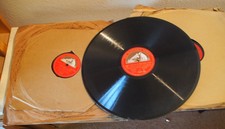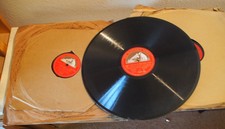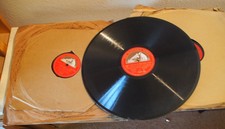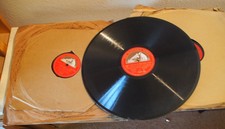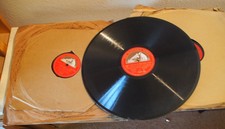 ********************************************************************************************************
Record Players now in stock from ONLY £45 !!!!
GPO Stylo £45
If a loved one has a record collection or they want to dip their toes into the vinyl scene,
then try the new Stylo.
Be one of the first to enjoy the 'back-to-basics' record player. It has a switch to select standard speeds 33/45/78 and features built-in speakers, a play/pause lever, an LED blue pilot lamp illuminates to indicate the volume level as you turn the knob.
Suports 3 speeds - 33/45/78 RPM
Ruby Stylus
Aux In 3.5mm for headphones/external speaker connection
Belt drive
Built-in stereo speakers
Play/pause lift receiver
Volume adjust with blue LED indicator
Size: 330mm x 280mm x 115mm
********************************************************************************************************
GPO Attache £90

Stylish, lightweight and available in a range of colours the suitcase record player makes it simple for you to play your vinyl wherever you are. Made of wood and bound in leatherette this briefcase styled record player features built in stereo so you can tune in without needing a speaker system.
Features:
Portable briefcase turntable player, enjoy music anywhere anytime!
Built in twin stereo speaker, enjoy high the popular design combine fashion and elegant,
Analogy output: RCA connectors L/R
Digital output: USB port
RPM records: Speed 3 (33,45,78 RPM)
Record your vinyl to a USB stick (supplied in the box)
Available in vintage brown, pillarbox red and sky blue
Accessories: instruction manual, power supply and USB recording stick
1 year warranty
**********************************************
GPO Memphis £140
A VINYL TURNTABLE, MP3 PLAYER, FM RADIO AND CD DECK

Bringing style to the vinyl revival, the GPO Memphis is a big personality formed from the American '50s era. This product offers flexibility and versatility, to bring all of your music collection under one hood; this is a must have for any music fan! Convert all your LPs and CDs to MP3 format, then save them to an SD card or USB stick.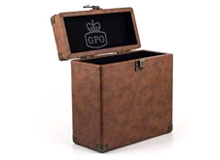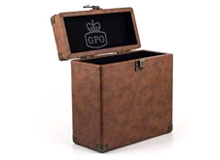 7 Inch Vinyl Case £35
Looking for somewhere to store your Vinyl? Look no further than the 7 Inch GPO Vinyl Case. When you love your records you want to make sure they stay in immaculate condition; more than anything else they sound better that way! That's exactly why we made these units. The product has a removable lid and comes with retro metal corner protectors to keep your collection fully protected.
7 INCH FEATURES
Comfortably holds 20-25 singles
Available in Black, Blue, Brown and Red
*************************************************************************



Vinyl Record Case £40
Looking for somewhere to store your Vinyl? Look no further than the 12 Inch GPO Vinyl Case. When you love your records you want to make sure they stay in immaculate condition; more than anything else they sound better that way! That's exactly why we made these units. The product has a removable lid and comes with retro metal corner protectors to keep your collection fully protected.
12 INCH FEATURES
Removeable Lid (12 inch only)
Comfortably holds 30-35 albums
Available in Black, Blue, Brown, Cream and Tan, Green, Green and Black and Red.
***********************************************************************************************************
VISIT OUR EBAY SHOP FOR AN EXTENSIVE RANGE OF

CDs DVDs and Vinyl

http://stores.ebay.co.uk/concordemusicperth





CONCORDE MUSIC
15 Scott Street
Perth
PH1 5EJ

Tel - 01738 621818 email - info@concordemusic.co.uk